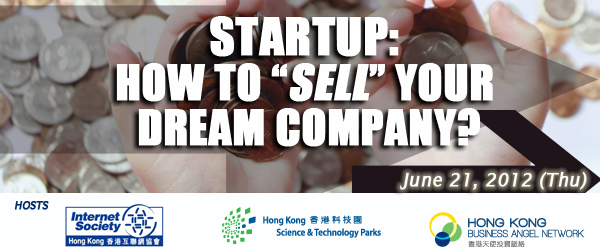 STARTUP: HOW TO "SELL" YOUR DREAM COMPANY?
How to find funding for your startup is critical to the success of your business. While some can be started with minimal capital, many require a substantial expenditure. If you are looking to start your own business and is contemplating how to find funding in Hong Kong or knowing when to exit your startup, you will have a chance to learn from our speaker's experience and ask questions directly. Your window of opportunity is just around the corner … Don't miss your chance!
DATE: JUNE 21, 2012 (THUR)
NETWORKING LUNCH WITH SPEAKERS
Time: 1:15pm – 2:30pm
Venue: 寶島茶居 Formosa Tea House, Shop 1-2, G/F, Enterprise, Place No.5 Science Park West Avenue, Hong Kong Science Park, Sha Tin
Fee: $50
/ head (cash onsite)
SEMINAR
Time: 3:00pm – 5:30pm
Venue: Conference Hall 06-07, 2/F, Lakeside 2, No. 10 Science Park West Avenue, Hong Kong Science Park, Pak Shek Kok, Shatin
Fee: Free
Presentations:
SPEAKERS

Kin KoCo-Founder, Lakoo

Kin Ko co-founded Lakoo, a leading mobile online game developer with Peter Tam in 1999 in Hong Kong. Backed by Sequoia Capital and Tencent, Lakoo believes in "good gamer karma", the synergy between game developer and gamers in fostering positive outcomes into gamers' daily lives beyond playing the game.

Born and raised in Hong Kong, kin was graduated in 1997 in The Chinese University of Hong Kong, with major in Computer Engineering and minor subjects in Sociology and Government and Public Administration. kin splits his time among Hong Kong, Guangzhou, Beijing and Silicon Valley.
Sharing: The misconception of financing for entrepreneurs (in Hong Kong) <Cantonese> 

Charles Mok

Founding Chairman, Internet Society Hong KongPreviously, Charles was the Deputy Managing Director and a co-founder of HKNet Company Limited, one of Hong Kong's earliest Internet service providers, and successfully put the company in the leading edge in the Internet service providers sector in the region.

HKNet was acquired by NTT Communications of Japan in 1999, and a director of Cloud Valley Networks (Hong Kong) and Hong Kong Skycloud Technology, leaders in cloud computing in Hong Kong and China from 2010 to 2011.

Sharing: How to get NTT to buy your company?

 

Simon Newstead

CEO and Co Founder, Frenzoo

Simon Newstead is the creator of 3d mobile games for women. Prior to starting Frenzoo he led the Emerging Technology group of Juniper Networks in Asia Pacific based out of Hong Kong, helping to bring new products and services to market. Simon has a personal interest in bringing together the best of East and West to make even better gaming experiences for players globally.Sharing: How to raise $1M angel round out of Hong Kong

 

Ir. Allen TB Yeung

Vice President, Business Development and Technology Support, Hong Kong Science and Technology Parks CorporationHe serves as Founding Member and Chairman of Hong Kong Business Angel Network (HKBAN), Board of Director – Monte Jade Science & Technology Association of Hong Kong, Chairman of the Hong Kong Technology & Renewable Energy Events (HKTREE) organizing committee, Advisor to the EE Department of The Chinese University of Hong Kong and The Hong Kong Polytechnic University. He is the Advisory Committee member at the Information Technology Industry Council of the Federation of Hong Kong, a Fellow Member of The Hong Kong Institute of Engineers and the Executive Committee Member of Green ICT Consortium.

Sharing: How to raise $1M angel funding in Hong Kong?

 

David Zhu

Chief Technology Officer & Co-Founder, Enterproid 

David started hacking on mobile devices in the late '90s and has since worked on all major platforms including Android, iPhone, BlackBerry, Windows Mobile, PalmOS, and Symbian. David was previously Director of Engineering (and the first employee) at Smule, where he created the initial Sonic Network. It powered many of the company's #1 hits on the Apple App Store including Ocarina, Sonic Lighter, and I Am T-Pain. During his tenure, Smule's user base grew from zero to over 3 million unique devices and over 5 million individual app installs. In 2005, David co-founded a mobile security company focused on leveraging cellphones for strong two-factor personal authentication. Over the years, David has also held technical roles at companies such as Morgan Stanley, Jarna, and HP. David holds a B.S. in Computer Science from Stanford University.

Sharing: Do you really need funding?