HIGHLIGHT OF EVENT
SecureHongKong 2012 – Mitigating Against Emerging Threats
(17 Dec @ Cyberport)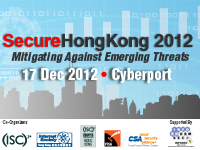 Conference will provide a platform for security professionals to meet and discuss the challenges information security professionals face when trying to secure their organization infrastructure, key like minded associations and organizations have come together to organize a one day conference on Dec 17 at Cyberport.The one day conference will focus on how security professionals can address the constantly changing security landscape. In addition, it will provide the attendees with an opportunity to understand emerging technologies and how its adoption can help them mitigate the risk their organizations face with the increased sophistication of targeted attacks.
Date: 17 December 2012 (Mon)
Time: 9:30am – 5:15pm
Venue: Function Room, Level 3, Core E, Cyberport 3, 100 Cyberport Road, Hong Kong
Conference & Workshops Detail and Registration: Click Here
---
Web Accessibility For All
(11 Dec @ Wanchai)


Internet has become a primary way of communicating, distributing information and providing services to the public. Internet is for everyone which includes web accessibility for all people and under privileged groups. The goal of this event is to make a positive impact in our local community to enhance technology professionals with knowledge and skills to incorporate web accessibility in their web technologies. This will make a great impact to delivery web content to a wider audience and is an aspect of social responsibility.Attend the Seminar for a chance to WIN an iPhone 5!
Date: 11 December 2012 (Tue)
Time: 2:30pm – 5:30pm
Venue: Room 202, The Duke of Windsor Social Service Building, WanChai
Conference Detail and Registration: Click Here
---
IPv6 in Action: Android Application launched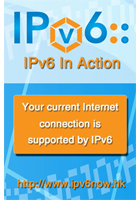 The free Android application can inform users if they are supported by IPv6 and provides information about IPv6 via the IPv6Now.hk website.Click here to Download
---
Hong Kong ICT Awards 2013: Best Digital Inclusion Award (Entry Enrolment Started Nov 9; Briefing Session Nov 21)
Hong Kong ICT Awards 2013: Best Digital Inclusion Award is established to encourage and recognise the development of ICT products, applications and services in the following areas:
1. Promoting adoption of ICT among disadvantaged groups
2. Promoting healthy and ethical use of ICT and Internet
Via acknowledging these projects that promote the rights of the disadvantaged groups to participate and contribute to the development of Information Society, the Award aims to raise the awareness of public on digital inclusion, proper and healthy use of internet.
Call for Entry From: Nov 9, 2012
Briefing Session: Nov 21, 2012 (Wed)
Click Here for Detail and Enrolment
---
HKICTA 2013: Best Lifestyle Award (Entry Enrolment Open Now)
The Hong Kong ICT Awards recognise, promote and commend the excellent achievements to which Hong Kong ICT professionals, business corporations and organisations contributed. The Awards also encourage local practitioners to develop innovative and creative ICT solutions, which will uplift the professional image of Hong Kong ICT sectors, both locally and internationally.
Call for Entry From: Nov 9, 2012 to Jan 11, 2012
Click Here for Detail and Enrolment
---
ADNDRC Conference 2012 (Nov 26)
Recent developments in the domain name system, i.e. the introduction of new gTLDs and the development of Internationalised Domain Names (IDNs), are reshaping cyberspace. As these developments begin to impact the use and function of the Internet, the demand for a speedy and effective dispute resolution mechanism for domain name and other intellectual property (IP) related disputes in the Asia region will continue to increase. The Hong Kong International Arbitration Centre (HKIAC) will be hosting the ADNDRC Conference 2012 on Monday 26 November 2012 at Renaissance Hong Kong Harbour View Hotel to address emerging issues in domain name dispute resolution. The theme of this year's ADNDRC Conference is "Managing Domain Name Disputes in a Transforming Cyberspace".
Date: Nov 26, 2012 (Mon)
Time: 8:15 – 17:00
Venue: Renaissance Hong Kong Harbour View Hotel
Click Here for Detail and Enrolment
*** ISOC HK Members are entitled to Member's discount ***
---
Agile Tour Hong Kong 2012 (Dec 1)
Agile Tour is finally coming to Hong Kong! We organise a full day with international and local expert speakers on a variety of Agile topics.
The main objectives of the Agile Tour are constantly evolving, but are currently:
1) Massively Communicate about Agile
2) Share our Vision of Agile
3) Federate/Leadership
4) Support
Summarising the mission of AgileTour is to create leaderships and leaders on Agile in all regions of the world in order to do a mass communication on Agile and impact the professional world. Thus, AgileTour is an action that is intended to make emerge non-profit organizations and enterprises who base their foundation on Agile.
Date: 1 Dec (Sat)
Time: 9am – 5pm
Venue: Cocoon, CWB
Click Here for Event Detail and Registration
---
Mobile Business Summit 2012 (Dec 7)
The "Mobile Business Summit 2012 – Mobile Finance in the New Era" is hosted to gather stakeholders from Finance and IT sectors to discuss the trend and business opportunities of mobile finance.
The Summit is an extended from the reputed business conference "Digital Media Marketing Conference" initiated in 2009. It is an annual signature event organized by WTIA to bridge differences in perspectives and facilitate knowledge exchange between mobile technology industry and other businesses.
Date: 7 Dec (Fri)
Time: 9:30am – 5:30pm
Venue: Function Room 1-3, Hong Kong Cyberport
20% discount for ISOC HK members
Click Here for Event Detail
---
Joint ICT Christmas Party 2012 (Dec 17)
Date: 17 Dec (Mon)
Time: 5:45pm – 7:00pm
Venue: Conference Hall, 4/F, HKPC Building, 78 Tai Chee Ave, Kowloon Tong
Entertainment: Wine, soft drink, snacks, and many fabulous prizes!
Fee: Free for members; $200 for non-member
Click Here for Event Detail
---
APRICOT 2013 – Singapore (Feb 19 – Mar 1)
Held annually, the ten-day long summit consists of seminars, workshops, tutorials, conference sessions, birds-of-a-feather (BOFs), and other forums all with the goal of spreading and sharing the knowledge required to operate the Internet within the Asia Pacific region.
Date: Feb 19 – Mar 1, 2013
Venue: Shangri-La Hotel, Singapore
Click Here for Event Detail
---
IT NEWS AND HIGHLIGHTS
Hacker hacked into Adobe servers and dump data of 150000 users (The Hacker News)
14 Nov, 12
This morning I received the news of new attacks against Adobe, an Egyptian Hacker named ViruS_HimA hacked into Adobe servers and leaked private data.
The hacker claims to have violated Adobe servers gaining full access and dumping the entire database with more of 150,000 emails and hashed passwords of Adobe employees and customers/partner of the firm such as US Military, USAF, Google, Nasa DHL and many other companies. Read More
Japan leads Asia in building the cloud economy (NetworksAsia)
15 Nov, 12
Japan has once again topped the rankings in the Cloud Readiness Index (CRI), an annual study of Asia-Pacific economies' preparedness for cloud computing by the Asia Cloud Computing Association (ACCA).
In this the second Index, Japan ranked ahead of Korea, Hong Kong and Singapore, scoring highest in the categories of International Connectivity and Business Sophistication, and equal highest in Data Privacy and Freedom of Information Access. Read More
Global Switch invests HK$2.8B to build Hong Kong datacenter (Computer World Hong Kong)
19 Nov, 12
Global Switch has acquired a site on the Tseung Kwan O Industrial Estate in Hong Kong to build a tier 3 plus datacenter, the company said recently.
An owner and operator of wholesale carrier-neutral datacenter space in Europe and Asia Pacific, Global Switch intends to invest around HK$2.8 billion over the full course of the development of the Hong Kong facility, with further investment arising from specific customer requirements, it said in a statement.Read More
BE OUR MEMBER
Get the most up-to-date discount, news and events.
Join us now:
https://www.isoc.hk/be-our-members/