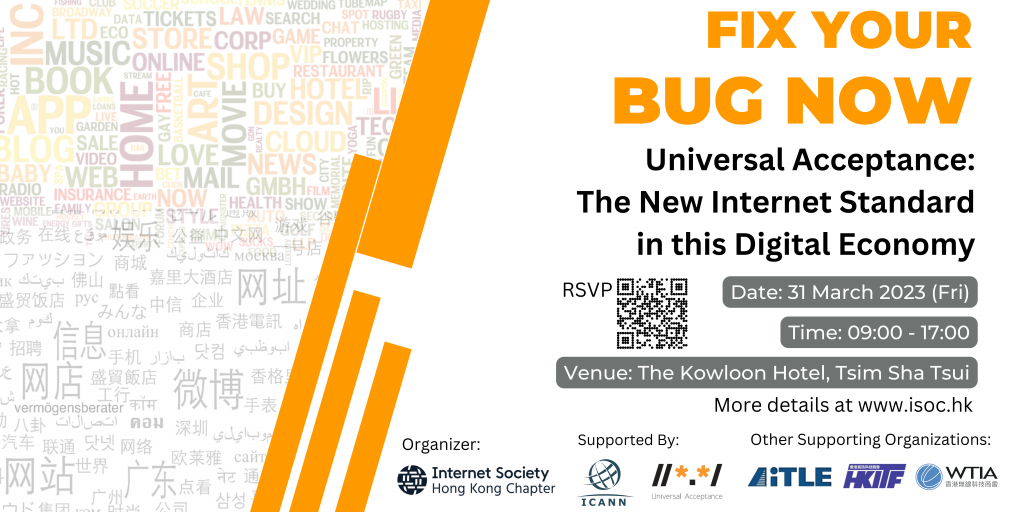 Join us to fix the "bug" of your Internet apps, websites, SaaS or email servers now!
If you are still not aware of Universal Acceptance yet, you may already be shutting out some online users at the doorstep now without knowing! The Internet has evolved with multi-lingual and long domain names such as .香港, .在线, .online, .भारत, etc a couple years ago. While the major web browsers and some email clients are already supporting such domains technically, many of the businesses and software developers are still yet to adapt the changes in their I.T solutions, which in turn hinder users from accessing their services.
Supported by ICANN and the Universal Acceptance Steering Group (UASG), this 1-day seminar and training event will inform you about the:
Business opportunities of the upcoming second round of new generic Top-Level Domains program
How to leverage new TLDs to build and market your brand
Why do you need to achieve Universal Acceptance and what it takes
Practical programming & email systems configuration training on Universal Acceptance.
Who shall join us?
Business owners, I.T decision makers, system administrators, software developers, I.T students, ICT educators
Date: 31 March 2023 (Friday)
Time: 09:00 – 17:00
Venue: Loong Yat Heen, 2/F, The Kowloon Hotel, 19-21 Nathan Road, Tsim Sha Tsui
Language: Cantonese & English
Register HERE: https://forms.gle/A2AvhYBVfPu7tcn58
Fee: Free of Charge (*Seats are limited)
Event Agenda:
Morning Seminars
09:00 – 09:15 Registration
09:15 – 09:30 Welcome Remarks & Keynotes
09:30 – 10:30 Panel 1: New gTLD & Universal Acceptance: The next big opportunity in this Digital Economy
10:30 – 11:00 Networking Coffee Break
11:00 – 12:00 Panel 2: The Playbook to UA-ready: What are the common challenges and remediation?
12:00 – 13:30 Lunch
Afternoon Training
13:30 – 15:00 Get your hands Dirty with UA: Technical Training (Part 1)
15:00 – 15:30 Networking Coffee Break
15:30 – 17:00 Get your hands Dirty with UA: Technical Training (Part 2)
Featured Speakers:
Mr. Edmon Chung, Board Member, ICANN
Ms. Athena Foo, Stakeholder Engagement Manager, ICANN
Ms. Ruby Pang, Head of Business Development (Greater China), CSC Global
Mr. Ben Cheng, Co-Founder, OurSky, Authgear.com and Formx.ai
Mr. Jacky Ng, Principal Engineer, FUJIFILM Business Innovation Hong Kong