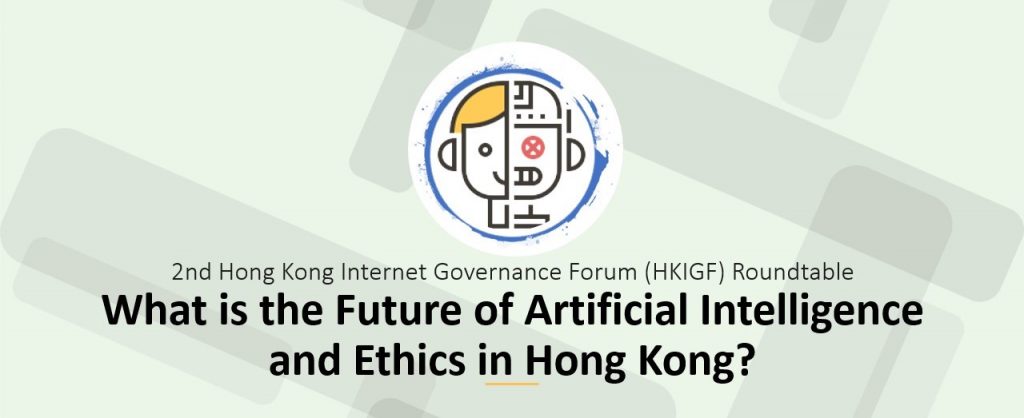 Event details
Date: 2nd April, 2019 (Tuesday)
Time: 7:00 – 9:00 pm
Venue: Room 502, The Legislative Council Complex
Language: English
Rundown: 1. Speakers sharing 2. Panel discussion 3. Floor discussion
Remark: free entry with prior registration; live broadcast on Facebook (TBC)
Registration: https://goo.gl/forms/m1972ZMdw8Kquvv82
Registration deadline: 24th March, 2019

Introduction
Artificial intelligence is going to change the way we work, create and live our lives. While AI's potential as an aid to human decision making is tremendous, there is also increasing concern about the risks and challenges that AI could bring, such as entrenching and expanding existing inequalities and inaccuracies due to potential biases embedded in the algorithms.

The second Hong Kong Internet Governance Forum (HKIGF) roundtable brings together stakeholders in the field of technology, law, politics, ethics, entrepreneurs, as well as the general public to identify ethical risks and benefits of AI, sketch possible scenarios and discuss the actions needed to grasp opportunities while managing risks.

Co-organiser: ​Office of the Hon Charles Mok, Legislative Councillor (IT)

Speakers
Dr. Angela Daly (Assistant Professor, Law Faculty of CUHK)
Hon Charles Mok (Legislative Councillor, IT)
Mr. Edmon Chung (ISOC HK)
Mr. Eric Yung (Founder of Playnote; Researcher in AI for music education)
Mr. Fred Sheu (National Technology Officer, Microsoft HK)

Dr. Samson Tai (IBM Distinguished Engineer and the Chief Technology Officer of IBM Hong Kong)
Discussion Focus
Factors that currently shape AI development and progress in Hong Kong
Merits and limitations of AI technology
Ethical implications of AI – Issues to be addressed to ensure AI advances in a responsible and beneficial manner
Emerging standards and governance practices of AI in the public and private sectors
How should ethical standards in AI be introduced in Hong Kong?
For any enquiries, please feel free to contact us at <[email protected]>.
Acknowledgement: The icon is created by Eucalyp Studio from www.iconfinder.com