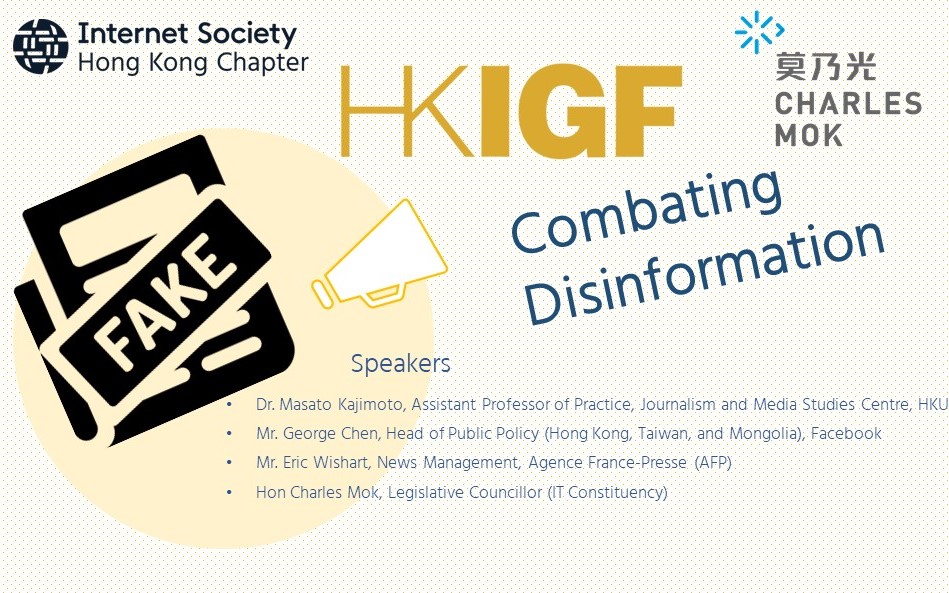 Date: 25th Feb, 2020 (Tue)
Time: 19:00 – 21:00 HKT (11:00 – 13:00 UTC)
Venue: Zoom meeting room (the link will be sent to your email address)
Language: English
Registration: https://forms.gle/YcUQurDxk1MD9Xax9
Speakers:
Dr. Masato Kajimoto, Assistant Professor of Practice, Journalism and Media Studies Centre, HKU
Mr. George Chen, Head of Public Policy (Hong Kong, Taiwan, and Mongolia), Facebook
Mr. Eric Wishart, News Management, Agence France-Presse (AFP)
Hon Charles Mok, Legislative Councillor (IT Constituency)
Due to the partial border closure in China, Hong Kong will be short of food and toilet paper supply? Hong Kong citizens have queued up and jostled for food and toilet paper —in face of all sorts of overwhelming information, how can we identify the fact? How can different stakeholders coordinate and collaborate to combat disinformation?
Let's discuss at HKIGF#4: Combating Disinformation! do not hesitate to contact us at [email protected] if you have any questions or inquiries!