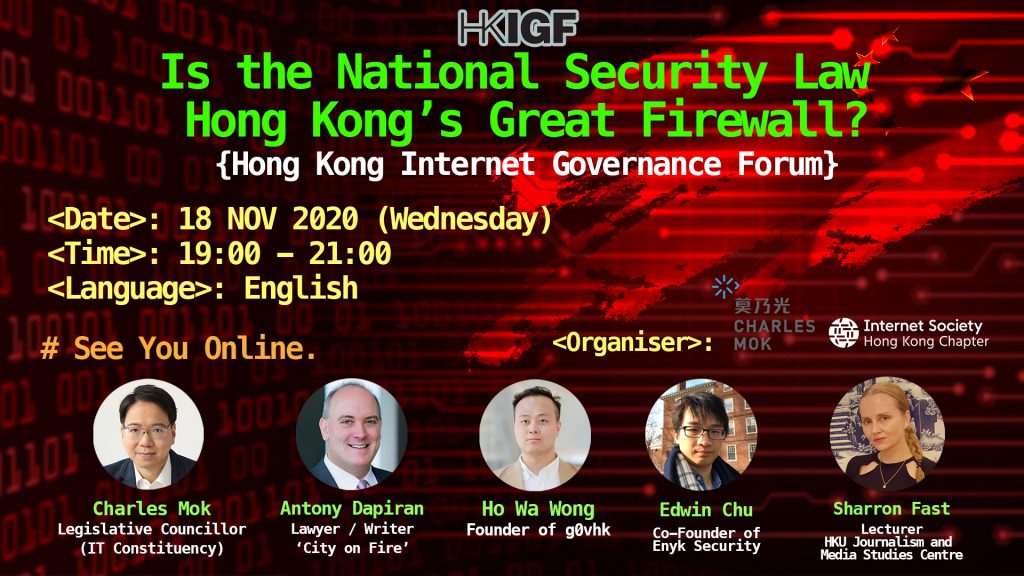 Register: https://forms.gle/naBTUjQdiNf9CNL37
Hong Kong Internet Governance Forum: Is the National Security Law Hong Kong's Great Firewall?
Date: 18 NOV
Time: 7pm – 9pm 
Venue: ZOOM
Language: English
On July 1, Hong Kong's sweeping new national security law came into effect. Though the law doesn't target the technology sector per se, Article 9 stipulates that the Hong Kong government "shall employ necessary measures to strengthen publicity, guidance, oversight and management in schools, social organizations, media, networks and other matters related to national security," with "networks" here referring to the internet.
Though it still seems unclear how the law may practically be carried out, we can already see such a chilling effect. Facebook, Google and Twitter suspended user info requests from the Hong Kong government, some VPN firms shut down Hong Kong servers, the mobile app 'Eat With You' which labels local eateries supportive of the Hong Kong protesters terminated its service. Not to mention some residents have started to delete their Twitter accounts and messages over security law concerns.
Speakers:
※Antony Dapiran – Hong Kong-based writer and lawyer, author of the book 'City on Fire: The Fight for Hong Kong'
※Ho Wa Wong – Founder of g0vhk
※Edwin Chu – Co-founder of Enyk Security
※Sharron Fast – Lecturer at the University of Hong Kong's Journalism and Media Studies Centre (JMSC)
※Charles Mok – Legislative Councillor (Information Technology)
In this Webinar, we have invited experts from different aspects to talk about how the security will affect Hong Kong citizens' online activities, as well as how it may affect tech entrepreneurs and larger companies as they go about their day-to-day operations and long-term plans. And how can the tech civil society deal with this situation.