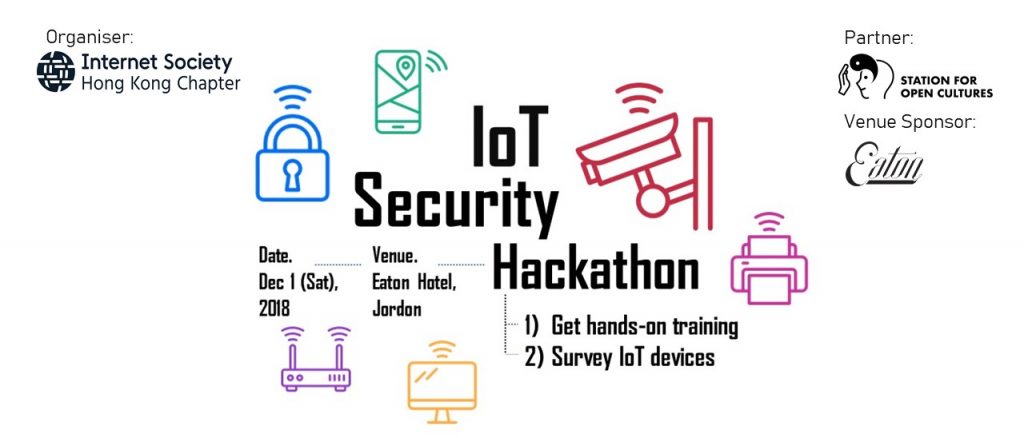 Join the IoT (Internet of Things) Security Hackathon– you will learn and apply the following skills:
IoT Protocols and Security Testing
Security Vulnerabilities of IoT Devices
Static Analysis of Firmware and Walkthrough of How a Router Expliot is Discovered
Bruteforce Technique
This is a full day event in which we have:
The Hackathon doesn't end here– you can opt in for our IoT Security and Privacy Evaluation Project. With the guidance and support from our speakers, you will:
Work in a team to survey a variety of devices in the market;
Review the existing security and privacy standards;
Produce a report to inform the public of the evaluation outcomes; and,
Drive changes in the IoT industry!
Event details:
Date: Dec 1 (Sat), 2018
Time: 10:00 – 18:00
Venue: 1/F, Eaton Hotel, 380 Nathan Road, Jordan
Fee: Free of charge; free snacks and beverage will be provided during lunch break
Language: mainly Cantonese; materials in English
Event rundown:
Time
Session Title
Speaker

9:30

Registration begins

10:00

Opening and talk on "Privacy Policy and Rights as Consumer"

11:00

Introduction to IoT Security and Privacy Evaluation Project

Charles Low

Edwin Chu

11:30

Break

11:45

Workshop: Introduction to IoT Protocols and Security Testing

Kenneth Tse

13:15

Lunch break

14:00

Workshop: Security Vulnerabilities of IoT Devices

Wai Kong Sung

15:30

Break

15:45

Workshop: Static Analysis of Firmware and Walkthrough of how a Router Expliot is discovered

Chris Chan

16:30

Workshop: Introduction to Bruteforce Technique

Philip Mok

17:15

Discussion on IoT Security and Privacy Evaluation Project
Registration:
Registration form: https://goo.gl/forms/QV2sp2hF9IoqZ2m73
Deadline of registration: Nov 14 (Wed), 2018
If You have any questions:
Please feel free to contact Sherry Shek via [email protected].
Special thanks to the support from Station for Open Cultures and Eaton Hotel.