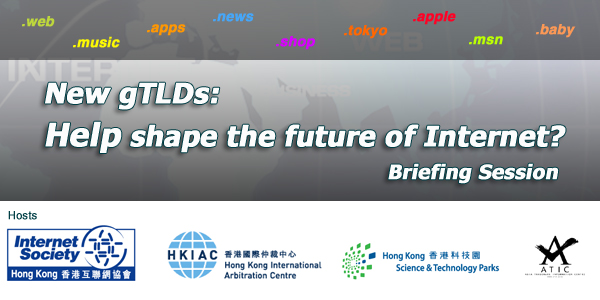 ---

Event Videos and Links
Savenaca Vocea

Global Partnerships, Manager,

Regional Relations – Australasia/Pacific Islands – ICANN

Charles Mok

Chairman, APRALO, ICANN and

Founding Chair, Internet Society Hong Kong

Hirokatsu Ohigashi

Executive Director, GMO Registry, Inc.General Manager of Business Development, GMO Internet, Inc

Edmon Chung

Member of ATIC Interim Board of Advisors

Other Video Links:
Mr. Jonathan Shea –
CEO, HKIRC
Panel 1 Q&A
Ms. Charmaine Koo –
Partner, Deacons
Mr. Sebastian Hughes –
Barrister-at-Law & Panelist, HKIAC
Panel 2 Q&A
Photos:

---
There are currently 22 gTLDs (generic Top Level Domains) such as .com, .net, .org etc. Starting from 12 Jan 2012, you can apply for .web, .music, .apps, .shop, .apple, .msn, .tokyo whatever you like and imagine!!!
It is anticipated that there could be "hundreds" of new gTLDs, which will substantially change the landscape of the Internet world. It will provide more choices not only for brand holders but also open doors to new business models which is named "Cyber-estate" for investors.
For more information on the new gTLD programme, please refer to ICANN's website at http://newgtlds.icann.org/
To know more about this new big Internet move and new business opportunity, please come to this briefing session on December 7, 11.
---
| | |
| --- | --- |
| Event | New gTLDs: Help shape the future of Internet? Briefing Session |
| Date | Wednesday, December 7, 2011 |
| Time | 9:00am – 1:00pm |
| Venue | Chamber 3, InnoCentre , 72 Tat Chee Avenue, Kowloon Tong |
| Language | English |
| Registration | (Free of charge)Seats are very limited. Please register now! |
---
Speakers
Mr. Savenaca Vocea

Global Partnerships, Manager,Regional Relations – Australasia/Pacific IslandsICANN

Mr. Charles Mok

Chairman, APRALO, ICANN andFounding Chair, Internet Society Hong Kong

Mr. Edmon Chung

Member of ATIC Interim Board of Advisors

Mr. Jonathan Shea

CEO, HKIRC

Mr. Hirokatsu Ohigashi Executive Director, GMO Registry, Inc.General Manager of Business Development, GMO Internet, Inc.

Mr. Sebastian HughesBarrister-at-Law & Panelist, HKIAC

Ms. Charmaine Koo

Partner, Deacons
---
Program Highlight
What is New gTLDs Program?
Who can apply?
The Application and Approval Process of New gTLDs
The Impacts and Opportunities of new gTLDs
More on gTLD
---