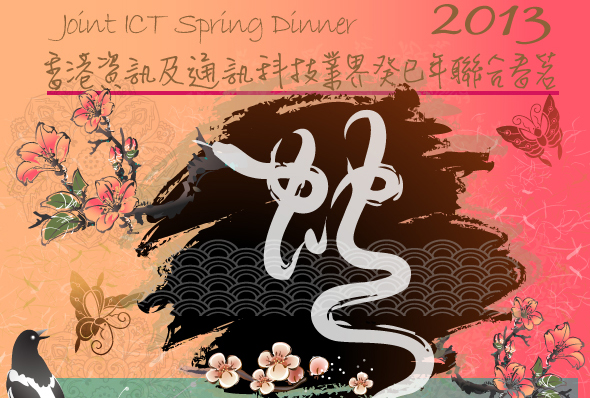 To welcome the Year of the Snake, the Joint ICT Spring Dinner, jointly organized by Hong Kong Information Technology Federation (HKITF), Communications Association of Hong Kong (CAHK) and Hong Kong Wireless Technology Industry Association (WTIA) and supported by friendly associations, will be held on 21 February 2013 (Thursday).
Details of the dinner are as follows:
Date : 21 February 2013 (Thursday)
Time: 6:45pm Registration; 7:30pm Dinner
Venue: Palace Restaurant, 13/F, Hong Kong International Trade & Exhibition Centre, 1 Trademart Drive, Kowloon Bay
Guest of Honor: Miss Susie Ho Shuk-yee, JP, Permanent Secretary for Commerce & Economic Development (Communications & Technology), CEDB
Special Guest: Honorable Charles Mok, Legislative Councilor (IT)
Fee:
Member: $780
Non-Member: $980
Corporate Table for Member: $8,888
Corporate Table for Non-Member: $10,800
Registration: http://goo.gl/ykYsY
---

An event dedicated to bring all product and service design disciplines together, from research, marketing, design, technology and the business to name a few, who are interested and passionate about designing great experiences for people and business for a better world for all.
Register and enjoy our early early bird price – http://www.uxhongkong.com/#register
---
Education 2.9 Conference: "Next Step in e-Learning Revolution"
『電子學習多面睇: 探討如何迎接電子學習時代的來臨』
日期: 2013年2月23日(星期六)
時間: 09:30 至16:00 (早上九時開始接受登記)
(備有午餐及免費接駁巴士服務)
地點: 香港數碼港道100號   數碼港3座E區3樓會議廳
語言: 粵語為主 (部份講者或會以英文講授)
對象: 校監、校長、教師、師訓學生、教育專業人士、電子學習內容及服務供應商或有興趣人士
費用: 全免
Education 2.9: 宣傳單張 eDm: http://goo.gl/7kDme
Education 2.9: 活動詳情 Agenda: https://goo.gl/PcjpL
Education 2.9: 活動登記 Registration:https://goo.gl/2KPRW
前往數碼港各主要公共交通 (http://goo.gl/0ghMc)
To Cyberport by Public Transport (http://goo.gl/yw9Go)
Google 地圖 Map (http://goo.gl/3It7b)
For enquiries, please email us at [email protected].
---

The frontier guiding you to seize the opportunities of tomorrow by connecting the unconnected
Cisco is proud to present Cisco Connect, a newly launched comprehensive event tailored to help you harness the changes and prime for the opportunities made possible by technology.
This March, Cisco Connect 2013, the evolution of Cisco Networkers, will mark Cisco's 20th Anniversary in Hong Kong. At the event themed "Your Vision Made Possible", you will find out how Cisco pioneers a connected world that can offer sustainable growth for your business, bringing you today's connections for tomorrow's Internet of Everything.
As we connect the unconnected, the exponential growth in interconnectivity and communication can empower your business to compete and flourish. Cisco Connect supports you in extending your business reach and staying 'connected' to the local perspective.
You will experience the following highlights firsthand:
Keynotes with insights from Cisco executives,
Best practice sharing and practical sessions providing best-in-class technical content,
Illustrations of the latest Cisco technologies,
A showcase area featuring solutions from Cisco and its partners, all designed to effectively enable you to create new and additional value for your business!
Now is the time to ensure that your business will profit from the Internet of Everything – and only Cisco has the ability and the solutions to make your vision possible. Join now and be prepared for the future of business with Cisco!