This year, we have received total 92 applications/ nominations. The decision of choosing the winners has been a difficult one, as the overall standard of applicants was high. After the judging and voting process, we are pleased to inform you the final result of My Favourite Cloud Product (MFP).
My Favourite Cloud Product (MFP) Competition
WIDS Stream
The winner of
Gold Award:
Viss
Vision
To encourage developers / startups to develop innovative and creative services / products Goals 1. To recognize developers / startups that have developed innovative and creative cloud service (i.e. this year's theme) 2. To engage with developer / startup community
Streams
1. World Internet Developers Summit stream (WIDS)

– To recognize creative and innovative products which apply the latest Internet technology
2. Microsoft stream
– To show how Microsoft technology lights up your product and how your innovation lights up Microsoft Platform.
Rules and Requirements The below rules and requirements are applicable to two streams:
• The awards is open to any software products that use / employ cloud technologies, such as (but not limited to) web application and mobile application on various platforms;
• All applicants must have a demonstrable products;
• At time of application submission, the product must be live for less than 3 years (36 months);
• New products from existing companies can enter the competition, but launching new feature sets do not qualify as new products;
• Applicants can be located anywhere in the world with significant R&D efforts in Hong Kong.
• The applicant must have a team size smaller than 30 full-time staff.
• No company may submit more than two entries.
• The applicant can only select one stream. If duplicate application is found, the applications will be disqualified.
Assessment Procedure 1 Out of all nominations / applications, the organizer will select a maximum of 10 entries for public voting (50%), based on the following criteria:
• Creativity and Innovation of the products;
• User friendliness, design and quality of the products;
• User numbers and tractions of the products gain on the market;
• To encourage startups and small businesses, priority will be given to new companies compare with well established one.
Prize(s) for Public Voting
| | |
| --- | --- |
| | Xbox 360 (worth around $2,200) |
Assessment Procedure 2 Final Round (50%)
• Judging and/or public voting at the event
All selected max.10 finalists for each stream, will do pitching at:
• WIDS 2014
• TechDay 2014
Prizes WIDS stream

Diamond Award

1.Economy class air-ticket to San Francisco

2.co-working space offer: 50 hours use of WYND co-working space within 6 months period worth $6,000 for a team of 3

3.showcase at WIDS 2014 on 27-28 March 2014

Gold Award

1.one2free My Plan – SIM Connection (12-month contract) with 10GB local mobile data usage & 5,000 local basic voice minutes (worth $5,148)

2.showcase at WIDS 2014 on 27-28 March 2014
Microsoft stream
Diamond Award

1.Economy class air-ticket to Houston, Texas + accommodation + TechEd North America 2014 (12-15 May 2014) + visit to Microsoft HQ

2.co-working space offer: 50 hours use of WYND co-working space within 6 months period worth $6,000 for a team of 3

3.showcase at TechDay (12-14 March 2014) in HK

Gold Award

1.one2free My Plan – SIM Connection (12-month contract) with 10GB local mobile data usage & 5,000 local basic voice minutes (worth $5,148)

2.Latest device on Windows 8.1 Platform

3.showcase at TechDay (12-14 March 2014) in HK
• Technology: Meet with the gurus who build the Microsoft products
• Startups: Share the excitement among the community
• Consumer: Latest gadget and gaming experience you don't want to miss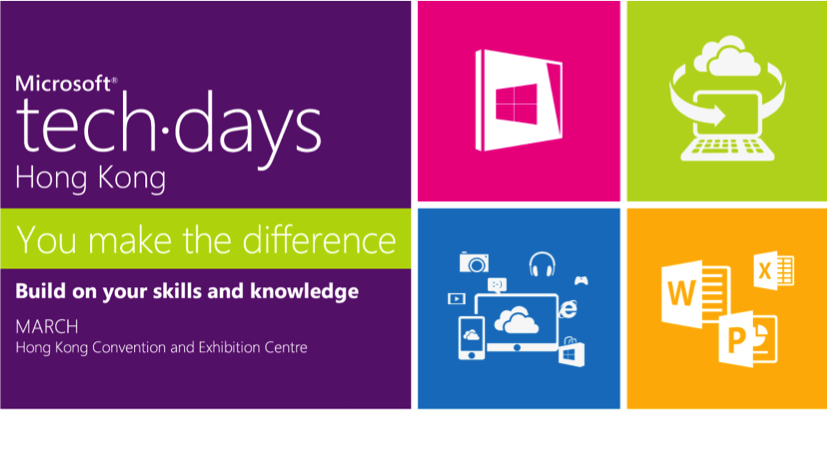 Techday 2014 Hong Kong

Date March 11-13, 2014

Venue: HKCEC, 1 Expo Drive, Wanchai, Hong Kong

Day 1-3 : Breakout sessions + Partner Exhibition

Day 2 : Opening Keynote + Breakout sessions + Partner Exhibition
Key highlights for TechEd:
• Annual event, largest IT Microsoft Event around the world e.g. America, Europe, Australia with few thousand attendees
• 4-day events with keynotes, breakouts tracks, techexpo, pre-conference
• showcasing the latest technology with world speakers from all around the world